Preview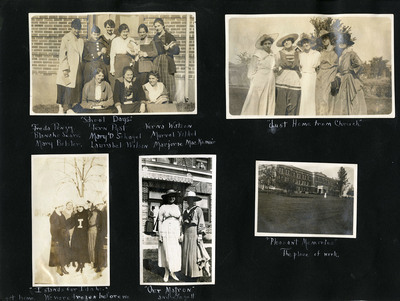 Source
Julia Louella Anno Digital Collection, SPC-018-0735_blackscrapbook_loose1_004
Description
The photographs on this page are labelled as follows: "School Days (Freda Penzig, Blanche Sears, Mary Bolseter, Fern Pyst, Mary D. Schagel, Laurabel Wilson, Verna Watson, Murvel Volkel, Marjorie MacKamair), "Just Home From Church", 'I Stands for Idaho' "Got home, We were frozen before we", "Our Matron and Segell", "Pleasant Memories, The place of work".
Repository
Eastern Washington University, Archvies and Special Collections
Rights
Images in this scrapbook are likely under copyright. Rights to share these images was provided by Anne Peterson, Julia Anno's granddaughter.