Preview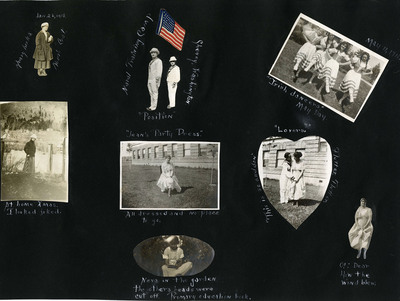 Source
Julia Louella Anno Digital Collection, SPC-018-0735_blackscrapbook_loose1_005
Description
The photographs on this page are labelled as follows: "Jan. 26, 1918: Heavy books, Neva's Coat", "Naval Training Camp", "May 11, 1918: 'Irish Dancers, May Day", "At Home, Xmas. I look joked.", "Jean's Party Dress", All dressed up and no place to go", "'Lovers. This is so sudden, Flutter Flutter", "Neva in the garden, the others' heads were cut off. Primary education book.", O! dear how the wind blew."
Repository
Eastern Washington University, Archvies and Special Collections
Rights
Images in this scrapbook are likely under copyright. Rights to share these images was provided by Anne Peterson, Julia Anno's granddaughter.