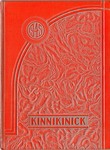 Files
Description
Table of Contents:
"Laboratory" [The Campus]: 8
"Consultants" [Faculty]: 12
"Corps of Assistants" [Organizations and Officers]: 22
"Nobel Prizes" [Scholarships and Who's Who]: 31
"Test Tubes" [Clubs and Dorms]: 36
"Off Duty" [Sports and Activities]: 49
"Scientists" [Graduates]: 62
[No index]
Over its history, Eastern Washington University has appropriated various parts of American Indian culture, which are reflected in many of these documents. This manifests in everything from the name of the yearbook itself to examples of students "playing Indian" as part of club activities and the annual "Passing of the Arrow" where a female senior student dressed in buckskin would symbolically pass an arrow to a female student from the junior class symbolizing the passing of leadership from one class to the next. From 1923-1973, the school nickname was the Savages, almost exclusively represented as a male American Indian. These representations range from caricatures to more lifelike images to students wearing redface during events.
The University no longer condones the appropriation of Indigenous nor any other marginalized cultures, while at the same time promoting honest discussion about University history. The online presentation of University publications containing images of the Savage and other representations of American Indians are intended to provide evidence informing such discussions.
Publisher
Associated Students of the Eastern Washington College of Education
Keywords
Eastern Washington College of Education--Periodicals; Eastern Washington College of Education--Students--Yearbooks; Eastern Washington College of Education; Students; School yearbooks; Periodicals; Yearbooks
Recommended Citation
Eastern Washington College of Education. Associated Students., "Kinnikinick, 1945" (1945). General Yearbooks. 30.
https://dc.ewu.edu/yearbooks/30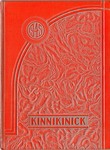 COinS