Preview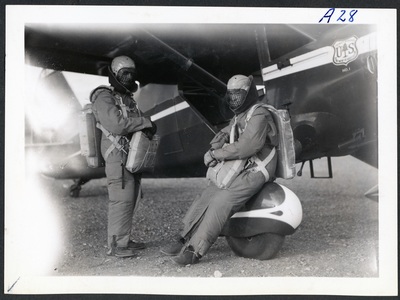 Source
The photograph is from a scrapbook owned by Larry Lufkin and posted by EWU with Lufkin's permission
Imaging Information
The photograph was scanned from a scrapbook owned by Larry Lufkin.
Description
Jumpers Chet and Virgil Derry in front of a Stinson Reliant aircraft. Both men are wearing full jump gear including jump suits, helmet with mask, and main and emergency parachutes. One of the jumpers sits on the landing gear of the aircraft. The photograph was taken during smokejumping experiments in Winthrop, Washington in 1939.
Rights
No known restrictions.
Keywords
jump suit; Derry, Chet -1947; Derry, Virgil, 1904-1968; parachutes; Stinson Aircraft Corporation Reliant
COinS