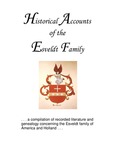 Description
This document consists of a published history of the Esveldt family with the transcript of a presentation by Pete Esvelt about his family's history digitally appended to the end.
The Esveldt family immigrated to the United States from the Netherlands, eventually settling in northeastern Washington. The work consists largely of the memoir of John P. Esvelt II written in two parts. The first, labelled "Narrative 1", tells the family story from immigration through John's early childhood. "Narrative 2" continues the story through 1963. The history contains details of the family's life on farms in Dartford and Colville, with some details on their relation with area American Indians. The appended presentation by Pete Esvelt focuses more on the family's relationship with American Indians.
The family genealogy that appears at the end of the Esveldt family history has been removed from this version. A print copy with the genealogy is available at the Eastern Washington University Archives and Special Collections.
Keywords
Spokane County (Wash.) -- History, Spokane County (Wash.) -- Biography, Indians of North America -- Spokane County (Wash.), Colville (Wash.) -- History
Repository
Archives and Special Collections, Eastern Washington University Libraries, (509) 359-2475, archives@ewu.edu.
Recommended Citation
Esvelt, John P. II and Esvelt, Pete, "Historical Accounts of the Esveldt Family and Pete Esvelt presentation" (2002). Publications from Special Collections. 12.
https://dc.ewu.edu/spc_pubs/12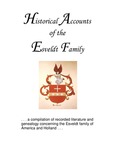 COinS