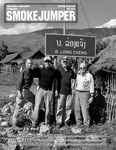 Description
This issue of the National Smokejumper Association (NSA) Smokejumper Magazine contains the following articles: Yarnell Hill Fire (Holly Neill), Long Cheng Visited 39 Years After CIA/Jumpers Left (C. Sheley), 2013 Dunton Leadership Award Winners, Early Days of Air America (Historic—Jack Cahill), Tribute to Ron Campbell, Legends Floyd and Lloyd Whitaker. Smokejumper Magazine continues Static Line, which was the original title of the NSA quarterly magazine.
Date Information
July 2014
Publisher
National Smokejumper Association
Keywords
Smokejumping, Smokejumpers -- United States, National Smokejumper Association, Wildfire fighters
Recommended Citation
National Smokejumper Association; Neill, Holly; Sheley, Chuck; and Cahill, Jack, "Smokejumper Magazine, July 2014" (2014). Smokejumper and Static Line Magazines. 88.
https://dc.ewu.edu/smokejumper_mag/88
Rights Field
The National Smokejumper Association holds the rights to this publication. Permission to post by Eastern Washington University is granted by a non-exclusive licence.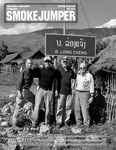 COinS