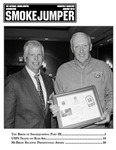 Description
This issue of the National Smokejumper Association (NSA) Smokejumper Magazine contains the following articles: Birth of Russian Smokejumping Part III (Historic), Orville Looper (Josh Voshall), USFS Trains on Ram-Air System (Mark Belitz), Project Coldfeet (Historic-Toby Scott), Talking to Trees (LeRoy Cook), Weissenback Memorial Honors MIA, Isle Royale Bridge Commemorates Smokejumper Roger Roth. Smokejumper Magazine continues Static Line, which was the original title of the NSA quarterly magazine.
Date Information
January 2010
Publisher
National Smokejumper Association
Keywords
Smokejumping, Smokejumpers -- United States, National Smokejumper Association, Wildfire fighters
Recommended Citation
National Smokejumper Association; Voshall, Josh; Belitz, Mark; and Scott, Toby, "Smokejumper Magazine, January 2010" (2010). Smokejumper and Static Line Magazines. 71.
https://dc.ewu.edu/smokejumper_mag/71
Rights Field
The National Smokejumper Association holds the rights to this publication. Permission to post by Eastern Washington University is granted by a non-exclusive licence.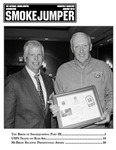 COinS