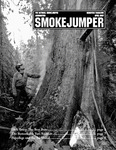 Description
This issue of the National Smokejumper Association (NSA) Smokejumper Magazine contains the following articles: Dick Tracy: The Best Boss (Scott Warner), The Remarkable Yuri Yushkov (Russian Smokejumper), Paperlegs and the Taj Mahal (Historic), feature Bill Selby. Smokejumper Magazine continues Static Line, which was the original title of the NSA quarterly magazine.
Identifier
055_Smokejumper_Issue_55_April_2007
Date Information
April 2007
Publisher
National Smokejumper Association
Keywords
Smokejumping -- United States, Smokejumpers -- United States, National Smokejumper Association, Tracy (Dick), Yushkov (Yuri), Selby (Bill)
Recommended Citation
National Smokejumper Association and Warner, Scott, "Smokejumper Magazine, April 2007" (2007). Smokejumper and Static Line Magazines. 55.
https://dc.ewu.edu/smokejumper_mag/55
Rights Field
The National Smokejumper Association holds the rights to this publication. Permission to post by Eastern Washington University is granted by a non-exclusive license.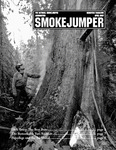 COinS