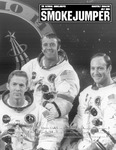 Description
This issue of the National Smokejumper Association (NSA) Smokejumper Magazine contains the following articles: To The Moon! Former Jumper Pilots Apollo 14 (Jill Leger), Only a Trail Jump (John McDaniel), Lee Gossett On Raven 12—Gene Hamner. Profile Hal Ewing (pilot). Smokejumper Magazine continues Static Line, which was the original title of the NSA quarterly magazine.
Identifier
048_Smokejumper_Issue_48_July_2005
Date Information
July 2005
Publisher
National Smokejumper Association
Keywords
Smokejumping -- United States, Smokejumpers -- United States, National Smokejumper Association, Apollo 14 (Spacecraft), Ewing (Hal)
Recommended Citation
National Smokejumper Association; Leger, Jill; and McDaniel, John, "Smokejumper Magazine, July 2005" (2005). Smokejumper and Static Line Magazines. 48.
https://dc.ewu.edu/smokejumper_mag/48
Rights Field
The National Smokejumper Association holds the rights to this publication. Permission to post by Eastern Washington University is granted by a non-exclusive license.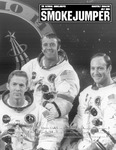 COinS