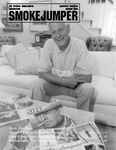 Description
This issue of the National Smokejumper Association (NSA) Smokejumper Magazine contains the following articles: Interview with Pioneer Smokejumper—Jim Alexander (Jim Budenholzer), First Actual Fire Jump (Rufus Robinson), Second Fire Jump (Earl Cooley), Thoughts on Changing the System (John Culbertson), Mike Adams remembered, Smokejumper Involved in Biggest Upset in Collegiate Sports History (Chuck Sheley), Milford Preston remembered, Remember Smokejumpers Who Died in Laos (Fred Donner), Bob Schlaefli (pilot) remembered, Willi Unsoeld (Bob Moffitt). Profiles Albert Gray and Rich Grandalski. Smokejumper Magazine continues Static Line, which was the original title of the NSA quarterly magazine.
Identifier
042_Smokejumper_Issue_42_January_2004
Date Information
January 2004
Publisher
National Smokejumper Association
Keywords
Smokejumping -- United States, Smokejumpers -- United States, National Smokejumper Association, Alexander (Jim), Adams (Mike), Preston (Milford), Vietnam War, Vietnam War (1961-1975) -- Campaigns -- Laos
Recommended Citation
National Smokejumper Association; Budenholzer, Jim; Robinson, Rufus; and Cooley, Earl, "Smokejumper Magazine, January 2004" (2004). Smokejumper and Static Line Magazines. 42.
https://dc.ewu.edu/smokejumper_mag/42
Rights Field
The National Smokejumper Association holds the rights to this publication. Permission to post by Eastern Washington University is granted by a non-exclusive license.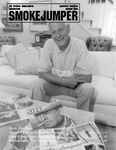 COinS