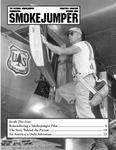 Description
This issue of the National Smokejumper Association (NSA) Smokejumper Magazine contains the following articles: Lady NED Deanne Shulman (Bill Yensen), Remembering Wally Tower, Air America—A Daily Adventure (Johnny Kirkley), Ted Burgeon—A Life Will Lived (Jerry Dixon). Profiles on Bill Moody, Gilbert Weldy, Howard Smith (pilot) and Art Henderson. Smokejumper Magazine continues Static Line, which was the original title of the NSA quarterly magazine.
Identifier
041_Smokejumper_Issue_41_October_2003
Date Information
October 2003
Publisher
National Smokejumper Association
Keywords
Smokejumping -- United States, Smokejumpers -- United States, National Smokejumper Association, Shulman (Deanne), Tower (Wally), Air America, Burgeon (Ted)
Recommended Citation
National Smokejumper Association; Yansen, Bill; Kirkley, Johnny; and Dixon, Jerry, "Smokejumper Magazine, October 2003" (2003). Smokejumper and Static Line Magazines. 41.
https://dc.ewu.edu/smokejumper_mag/41
Rights Field
The National Smokejumper Association holds the rights to this publication. Permission to post by Eastern Washington University is granted by a non-exclusive license.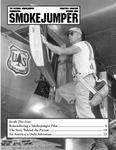 COinS