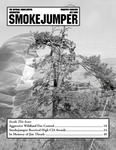 Description
This issue of the National Smokejumper Association (NSA) Smokejumper Magazine contains the following articles: Mick Swift (Troop Emonds), Aggressive Fire Control and the Biscuit Fire (Chuck Mansfield), Counterpoint to editorial control (Jim Veitch), Editorial Oversight –readers respond, Hoarding Jumpers (Steve Nemore), Smokejumper Awarded CIA Medals (Fred Donner), Ted Burgon Update. Profiles DeWayne Davis, John Twiss, Ben Musquez, John McIntosh and Jim Rabideau. Smokejumper Magazine continues Static Line, which was the original title of the NSA quarterly magazine.
Identifier
040_Smokejumper_Issue_40_July_2003
Date Information
July 2003
Publisher
National Smokejumper Association
Keywords
Smokejumping -- United States, Smokejumpers -- United States, National Smokejumper Association, Biscuit Fire (2002), Burgon (Ted)
Recommended Citation
National Smokejumper Association; Emonds, Troop; Mansfield, Chuck; and Veitch, Jim, "Smokejumper Magazine, July 2003" (2003). Smokejumper and Static Line Magazines. 40.
https://dc.ewu.edu/smokejumper_mag/40
Rights Field
The National Smokejumper Association holds the rights to this publication. Permission to post by Eastern Washington University is granted by a non-exclusive license.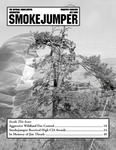 COinS