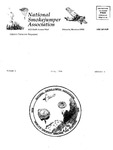 Title
Description
This issue of The Static Line, which is the predecessor to NSA Smokejumper. This issue contains the following articles:First list of deceased jumpers and pilots, retirements of Gary Dunning, Eric Schoenfeld and Steve Clarimont, staffing of jumper bases, articles on honoring Dick Tracy and Kirk Samsel for rescue jump in New Mexico, Deanne Shulman 1st woman smokejumper, Russian smokejumpers.
This is the quarterly newsletter of the National Smokejumper Association (NSA) and was renamed Smokejumper Magazine.
Identifier
004_Static_Line_July_1994
Date Information
July 1994
Publisher
National Smokejumper Association
Keywords
Smokejumping -- United States, Smokejumpers -- United States, National Smokejumpers Association, Smokejumping -- Airplanes, Payette National Forest (Idaho) -- Fires, Tracy (Dick), Shulman (Deanne), Smokejumpers -- Women, Davis (Jeff R.), -- Smokejumpers -- Russian
Recommended Citation
National Smokejumper Association, "Static Line, July 1994" (1994). Smokejumper and Static Line Magazines. 4.
https://dc.ewu.edu/smokejumper_mag/4
Rights Field
The National Smokejumper Association holds the rights to this publication. Permission to post by Eastern Washington University is granted by a non-exclusive licence.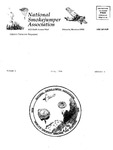 COinS