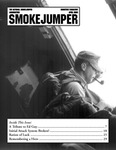 Description
This issue of the National Smokejumper Association (NSA) Smokejumper Magazine contains the following articles: Tribute to Ed Guy (Dale Schmaljohn), FBI Join Probe into Ted Burgon Killing, Biscuit Fire – Initial Attack System Broken? (Chuck Sheley), Ration of Luck (Air America—Don Courtney), Remembering a Hero – Hugh Jenkins, Interview with Troop Emonds (Chris Sorensen), profiles Wally Henderson, Fred Donner and Jimmie Dollard. Smokejumper Magazine continues Static Line, which was the original title of the NSA quarterly magazine.
Identifier
039_Smokejumper_Issue_39_April_2003
Date Information
April 2003
Publisher
National Smokejumper Association
Keywords
Smokejumping -- United States, Smokejumpers -- United States, National Smokejumper Association, Burgon (Ted), Edmonds (Troop), Biscuit Fire (2002)
Recommended Citation
National Smokejumper Association; Schmaljohn, Dale; Sheley, Chuck; and Courtney, Don, "Smokejumper Magazine, April 2003" (2003). Smokejumper and Static Line Magazines. 39.
https://dc.ewu.edu/smokejumper_mag/39
Rights Field
The National Smokejumper Association holds the rights to this publication. Permission to post by Eastern Washington University is granted by a non-exclusive license.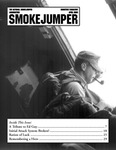 COinS