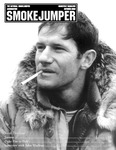 Description
This issue of the National Smokejumper Association (NSA) Smokejumper Magazine contains the following articles: Profiles Steve Rhodes, Adam Lauber, Larry Casey, Jim Rathbun, Jerry Howe, Murry Taylor and Jerry Linton, Death of Jimmy Pierce (John Culbertson), Smokejumpers and the CIA (Fred Donner), Interview with John Maclean (Steve Smith). Smokejumper Magazine continues Static Line, which was the original title of the NSA quarterly magazine.
Identifier
037_Smokejumper_Issue_37_October_2002
Date Information
October 2002
Publisher
National Smokejumper Association
Keywords
Smokejumping -- United States, Smokejumpers -- United States, National Smokejumper Association
Recommended Citation
National Smokejumper Association; Culbertson, John; Donner, Fred; and Smith, Steve, "Smokejumper Magazine, October 2002" (2002). Smokejumper and Static Line Magazines. 37.
https://dc.ewu.edu/smokejumper_mag/37
Rights Field
The National Smokejumper Association holds the rights to this publication. Permission to post by Eastern Washington University is granted by a non-exclusive licence.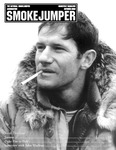 COinS