Title
Preview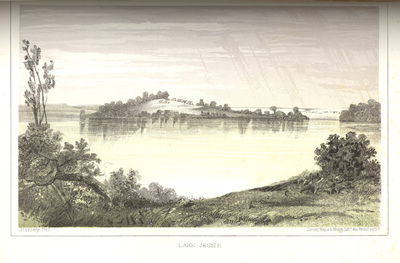 Source
Narrative and final report of explorations for a route for a Pacific railroad, near the forty-seventh and forty-ninth parallels of north latitude, from St. Paul to Puget Sound, by Isaac I. Stevens, Governor or Washington Territory. This is Volume 12, Book 1 of the set: Reports of explorations and surveys, to ascertain the most practicable and economical route for a railroad from the Mississippi River to the Pacific Ocean. Made under the direction of the Secretary of War, in 1853-5, according to Acts of Congress of March 3, 1853, May 31, 1854, and August 5, 1854. Washington, D. C.: Thomas H. Ford, Printer.
Date Information
Image date: 1853-07-10. Publication date: 1860
Physical Description
Lithographic plates
Imaging Information
Plates scanned at 600 ppi TIFF format, then resized to 72 ppi JPEG files
Description
The water of Lake Jessie is considerably saline in its character, "and the theory for the saline qualities is found in the fact that it is never washed out, and retains the salt deposits and incrustations." Plate XI. John Mix Stanley, artist. Sarony, Major & Knapp, Lithographers.
Repository
Archives and Special Collections, Eastern Washington University Libraries. Call no. W7.14:12/1
Rights
For ordering information go to http://www.ewu.edu/Library/Services/Archives/Order-Info.xml
Keywords
Expeditions & surveys; Railroad surveys; Lake Jessie
COinS