Preview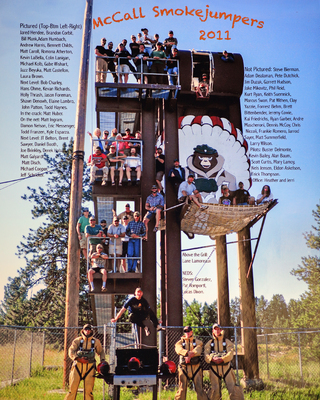 Source
The digital images were donated to Eastern Washington University Libraries by the National Smokejumper Association.
Date Information
2011-00-01
Description
A group portrait of the crew for the McCall Smokejumper base.
Pictured (Top-Btm, L-R): Jared Hendee, Brandon Corbitt, Bill Mank, Adam Humbach, Andrew Harris, Bennett Childs, Matt Caroll, Romona Atherton, Kevin LaBella, Colin Lannigan, Michael Kolb, Gabe Wishart, Jazz Beyuka, Matt Castellon, Laura Brown.
Next Level: Bob Charley, Hans Ohme, Kevan Richards, Holly Thrash, Jason Foreman, Shawn Denowh, Elaine Lambro, John Patton, Todd Haynes.
In The Crack: Matt Huber.
On The Net: Matt Ingram, Damon Nelson, Eric Messenger, Todd Franzen, Kyle Esparza.
Next Level: JT Belton, Brent Sawyer, Daniel Booth, Joe Brinkley, Derek Hoban, Matt Galyardt, Matt Disch, Michael Cooper, Jeff Schricker.
Above the Grill: Lane Lamoreaux.
NEDS: Steven Gonzalez, Pat Romporti, Lucas Dixon.
Missing (Not Pictured): Steve Bierman, Adam Dealaman, Pete Dutchick, Jim Duzak, Garrett Hudson, Jake Mikovitz, Phil Reid, Kurt Ryan, Keith Suemnick, Marcus Swan, Pat Withen, Clay Yazzie, Forrest Behm, Brett Bittenbender, Jeremy Cowie, Kai Friedrichs, Ryan Garber, Andre Mascheroni, Dennis McCoy, Chris Niccoli, Frankie Romero, Jarrod Sawyer, Matt Summerfield, Larry Wilson.
Pilots: Buster Delmonte, Kevin Baily, Alan Baum, Scott Curtis, Mary Lamoy, Nels Jensen, Eldon Askelson, Erick Thompson.
Office: Heather and Jerri.
Repository
Archives and Special Collections, Eastern Washington University Libraries.
Rights
Users are responsible for assessing and/or securing use permissions. For further information, contact Eastern Washington University Libraries, Archives & Special Collections at (509) 359-2475.
Use Permissions
Eastern Washington University has not been able to identify the copyright holder and considers this an orphan work. If you have information about the rights holder, please contact Eastern Washington University Libraries, Archives & Special Collections at (509) 359-2475.
Keywords
Smokejumping -- United States, Smokejumpers -- United States -- McCall Ranger District (Idaho)
COinS