Preview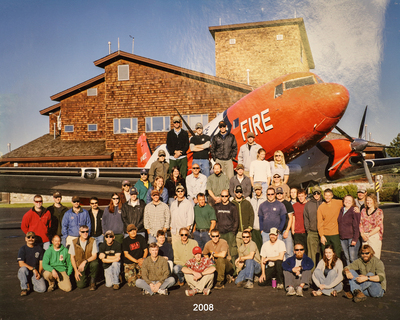 Source
The digital images were donated to Eastern Washington University Libraries by the National Smokejumper Association.
Date Information
2008-00-01
Description
A group portrait of the crew for the McCall Smokejumper base.
Front Row: 1. Fred Pavlovic, 2. Chris Niccoli, Steve Mello, 4. Matt Summerfield, 5. Bob Charley, 6. Eric Brundige, 7. Kevan Richards, 8. Mike Cooper, 9. Jason Miller, 10. Matt Carroll, 11. Dan Booth, 12. Hans Ohme, 13. Todd Franzen, 14. Lindsay Muir (Office) 15. Larry Wilson.
2nd Row: 1. Buster Delmonte (Pilot), 2. Alan Baum (Pilot), 3. Joe Brinkley, 4. Frankie Romero, 5. Ann Hadlow, 6. Matt Galyardt, 7. Dustin Doane, 8. Steve Bierman, 9. Damon Nelson, 10. Jeremy Cowie, 11. Sam Cox, 12. Jared Schuster, 13. Zach Glover, 14. JT Belton, 15. Jessie Jenkins (Pilot), 16. Bennett Child, 17. Wes Gregory, 18. Kevin LaBella, 19. Susie Barnett (Office), 20. Derek Hoban, 21. Becky McDonnell (Office).
3rd Row: 1. Brett Bittenbender, 2. Pat Withen, 3. Elysia Ewing, 4. Karin Kaaen, 5. Dennis McCoy, 6. Shawn Denowh, 7. Travis Dotson, 8. Gracie Moore (Pilot).
Back Row: 1. Jake Class, Eric Messenger, 3. Gabe Wishart, 4. Dave Graham, 5. Keith Suemnick, 6. Heidi Summerfield, 7. Darcy Walsh.
Missing (Not in Photo): Brian Austin, Forrest Behm, Jazz Beyuka, Matt Castellon, Jeremy Dempsey, Kai Friedrichs, Ryan Garber, Todd Haynes, Mathew Huber, Garrett Hudson, Rick Hudson, Ramona Hull, Tyko Isaacson, Renee Jack, Andre Mascheroni, Ryan Myers, John Patton, Amber Peck, Kurtis Ryan, Brent Sawyer, Jarrod Sayer, Jeff Schricker, Marcus Swan.
Repository
Archives and Special Collections, Eastern Washington University Libraries.
Rights
Users are responsible for assessing and/or securing use permissions. For further information, contact Eastern Washington University Libraries, Archives & Special Collections at (509) 359-2475.
Use Permissions
Eastern Washington University has not been able to identify the copyright holder and considers this an orphan work. If you have information about the rights holder, please contact Eastern Washington University Libraries, Archives & Special Collections at (509) 359-2475.
Keywords
Smokejumping -- United States, Smokejumpers -- United States -- McCall Ranger District (Idaho)
COinS