Preview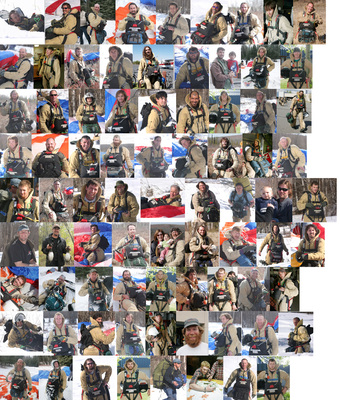 Source
The original is at the Alaska Smokejumper Base at Fort Wainrwight, Alaska. Digital photographs of the photoboard were donated to Eastern Washington University by the National Smokejumper Association for the purpose of posting online.
Date Information
2005-2007
Description
Portraits of smokejumpers from the Alaska smokejumper base. The jumpers are:
Row 1: Matt Allen, Rob Allen, Gary Baumgartner, David Bloemker, Mike Bradley, Charlie Brown, Ezra Butterfield, Doug Carroll, Greg Conaway
Row 2: Matt Corley, Bill Cramer, Jeff Cramer, Mitch Decoteau, Jim Dibert, John Dibert, John Dibert and son, Ben Dobrovolny, Kris Dudley
Row 3: Ryan Ehlers, Randy Foland, Bruce Ford, John Fremont, Anthony Gholson, Frank Goodson, Bram Granger, Dave Hade, Scott Hampton
Row 4: Pete Hearn, Scott Hocklander, Chip Houde, Ty Humphrey, Wally Humphries, Jason Jordet, Evan Karp, Jon Kawczynski, Dawson Kelsey
Row 5: Dan Klatt, Brandon Kobayashi, Tom Kubichek, Mike Lambright, Jon Larson, Gabe Lydic, John Lyons, Doug Mackey, Tony Marchini
Row 6: Mike McMillan, Mike MicMillan, Jeff McPhetridge, Porter McQueary, Marty Meierotto, Rob Miller, Bert Mitman, Joe Don Morton, Michael O'Brien
Row 7: Matt Oakleaf, Tony Pastro, Derek Patton, Branden Petersen, Chad Rice, Dalan Romero, Ward Scanson, Bob Schober, Aaron Schumacher,
Row 8: Oded Shalom, Kip Shield, Chris Silks, Ivan Smith, Tyler Smith, Tom St. Clair, Jeff Stark, Gerry Suomalainen, Chris Swisher
Row 9: Rick Thompson, Jay Wattenbarger, Jared Weber, Chris Wennogle, Alfred "Togie" Wiehl, Aaron Worley, Robert Yeager, Tamar Young
Repository
Archives and Special Collections, Eastern Washington University Libraries.
Rights
Eastern Washington University has not been able to identify the copyright holder and considers this an orphan work. If you have information about the the rights holder, please contact Eastern Washington University Libraries, Archives & Special Collections at (509) 359-2475.
Use Permissions
Users are responsible for assessing and/or securing use permissions. For further information, contact Eastern Washington University Libraries, Archives & Special Collections at (509) 359-2475.
Keywords
Smokejumping -- United States, Smokejumpers -- United States -- Alaska
COinS