Preview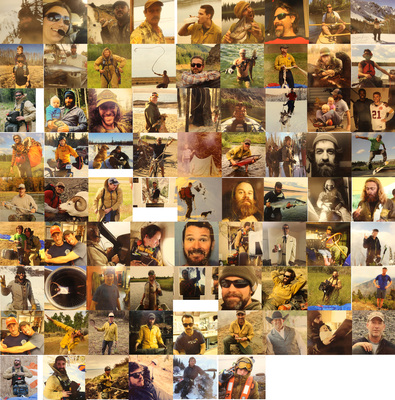 Source
The original is at the Alaska Smokejumper Base at Fort Wainrwight, Alaska. Digital photographs of the photoboard were donated to Eastern Washington University by the National Smokejumper Association for the purpose of posting online.
Date Information
2014-2016
Description
Row 1: Evan Adsit, Lisa Allen, Matt Allen, Rob Allen, Cedar Anderson, Scott Beckley, David Bloemker, Michael Bradley, Ezra Butterfield
Row 2: Christopher Carr, Doug Carroll, Peter Clusener, Greg Conaway, Bryan Cordes, Matt Corley, Bill Cramer, Jeff Cramer, Jim Dibert
Row 3: John Dibert, Ben Dobrovolny, Kael Donley, Kris Dudley, Isaiah Fischer, Jake Fischer, Randy Foland, John Fremont, AJ Gavin
Row 4: Kyle Goldammer, Bryce Henderson, Heath Hoerdeman, Ty Humphrey, Wally Humphries, Erik Jansen, Jameson Kane, Evan Karp, Brian Kehoe
Row 5: Russell Kennedy, Brandon Kobayashi, Tom Kubichek, Luke Langh, Gabe Lydic, Matt Matush, Jamie Mayor, Travis McCabe, Bill McCall
Row 6: Jeff McPhetridge, Porter McQueary, Marty Meierotto, Brian Mork, Joe Don Morton, Reid Nolan, Michael O'Brien, Matt Oakleaf, Eero Okkonen
Row 7: Jeff Olmstead, Robert Ordonez, Derek Patton, Ethan Paul, Tyler Peterson, Brian Pontes, Sky Reeves, Ted Roach, Spencer Robertson
Row 8: Aaron Schumacher, Luke Schutte, Kip Shield, Jeff Stark, Shaun Sullivan, Marcus Swan, Chris Swish, Mark Szabat, Jay Wattenbarger
Row 9: Jared Weber, Chris Wennogle, Alfred "Togie" Wiehl, Jake Wolff, Robert Yeager, Tamar Young
Repository
Archives and Special Collections, Eastern Washington University Libraries.
Rights
Eastern Washington University has not been able to identify the copyright holder and considers this an orphan work. If you have information about the the rights holder, please contact Eastern Washington University Libraries, Archives & Special Collections at (509) 359-2475.
Use Permissions
Users are responsible for assessing and/or securing use permissions. For further information, contact Eastern Washington University Libraries, Archives & Special Collections at (509) 359-2475.
Keywords
Smokejumping -- United States, Smokejumpers -- United States -- Alaska
COinS