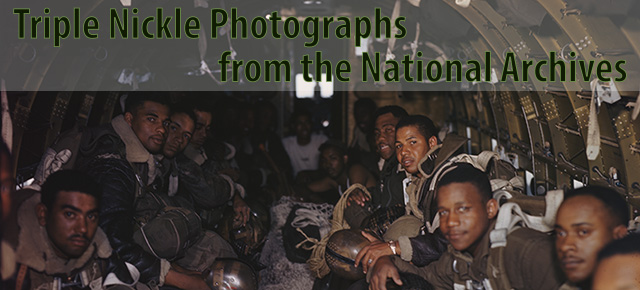 Preview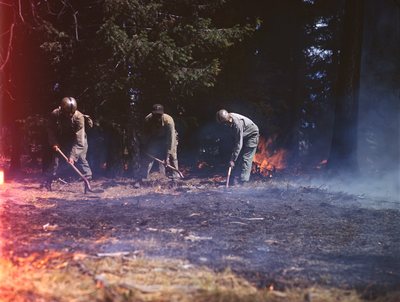 Source
National Archives and Records Administration (RG 342-C, Records of U.S. Army Air Force Commands, Activities, and Organizations)
Date Information
circa 1945
Imaging Information
Imaged by the National Archives and Records Administration (NARA reading room. Image provided by the NARA reading room at College Park, Maryland.
Description
Photograph from a series held by the National Archives on the first African American Airborne unit, the 555th Parachute Infantry Battalion, also known as the Triple Nickle. This image was scanned by the National Archives at College Park, Maryland. Their description reads: "'Operation Fire Fly'. Negro Paratroopers of the 55th Parachute Infantry combat a forest fire. The paratroopers jump with their fire-fighting equipment from Troop Carrier Command planes on fires which would take days for ground parties to reach, thereby preventing destruction of huge areas of the areas of the nation's timber on the watershed of the Northwest pacific area. Umatilla National Forest, Oregon." Two members of the Triple Nickle are wearing helmets, one is wearing a black baseball cap with "1st" stitched on the front. This is likely part of a training jump in the Umatilla National Forest.
Rights
There are no know restrictions.
Keywords
United States. Army Air Forces, United States. Army. Parachute Infantry Battalion 555th -- Photographs, Wildfire fighters, Smokejumpers -- United States
COinS