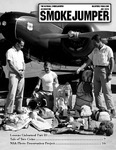 Description
This issue of the National Smokejumper Association (NSA) Smokejumper Magazine contains the following articles: Lessons Unlearned Part III, Tale of Two Coins (Bob Bartlett), More Information on Gene DeBruin, Quick Experiment on One-Manners (Historic), Fire Jump Western Edge of America, Remembering Bill Murphy, Phisit—An Interesting Life. Smokejumper Magazine continues Static Line, which was the original title of the NSA quarterly magazine.
Date Information
July 2016
Publisher
National Smokejumpers Association
Keywords
Smokejumping, United States Smokejumpers, National Smokejumpers Association, United States National Smokejumpers Association, Wildland Firefighting
Recommended Citation
National Smokejumpers Association and Bartlett, Robert L., "Smokejumper Magazine, July 2016" (2016). Smokejumper and Static Line Magazines. 96.
https://dc.ewu.edu/smokejumper_mag/96
Rights Field
The National Smokejumper Association holds the rights to this publication. Permission to post by Eastern Washington University is granted by a non-exclusive licence.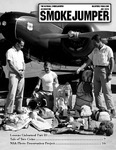 COinS