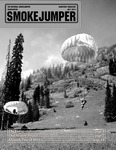 Description
This issue of the National Smokejumper Association (NSA) Smokejumper Magazine contains the following articles: The List-names of smokejumpers who worked for the CIA, Driscoll Oral History Project, Roary Murchison—Southeast Asia 1967-71, Klamath Fires of 2014 (Murry Taylor), Ram-Air Combines Best of Old—New Bobby Sutton), Remember Smokejumper Trailblazers 1935 (Ron Stoleson), Dunton Leadership Award winners. Smokejumper Magazine continues Static Line, which was the original title of the NSA quarterly magazine.
Date Information
July 2015
Publisher
National Smokejumper Association
Keywords
Smokejumping, Smokejumpers -- United States, National Smokejumper Association, Wildfire fighters
Recommended Citation
National Smokejumper Association; Taylor, Murry; and Stoleson, Ron, "Smokejumper Magazine, July 2015" (2015). Smokejumper and Static Line Magazines. 92.
https://dc.ewu.edu/smokejumper_mag/92
Rights Field
The National Smokejumper Association holds the rights to this publication. Permission to post by Eastern Washington University is granted by a non-exclusive licence.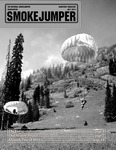 COinS