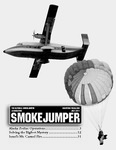 Description
This issue of the National Smokejumper Association (NSA) Smokejumper Magazine contains the following articles:Alaska Fire Service Zodiac Operations (Bill Cramer), Higgins Ridge Fire, Umpqua Bigfoot Mystery (Major Boddicker), Olympic Gold (Children of Smokejumpers winning Olympic medals), Curricula for a USFS Academy (Les Joslin), Prompt Smokejumper IA Saves Dollars (Comparison of smokejumper vs ground attack in dollars saved), Remembering Neil Satterwhite, Israel's Mt. Carmel Fire—Smokejumper Connection. Smokejumper Magazine continues Static Line, which was the original title of the NSA quarterly magazine.
Date Information
July 2011
Publisher
National Smokejumper Association
Keywords
Smokejumping, Smokejumpers -- United States, National Smokejumper Association, Wildfire fighters
Recommended Citation
National Smokejumper Association; Belitz, Mark; and Beltran, Tony, "Smokejumper Magazine, July 2011" (2011). Smokejumper and Static Line Magazines. 76.
https://dc.ewu.edu/smokejumper_mag/76
Rights Field
The National Smokejumper Association holds the rights to this publication. Permission to post by Eastern Washington University is granted by a non-exclusive licence.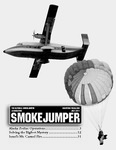 COinS