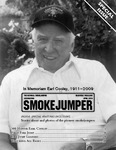 Description
This issue of the National Smokejumper Association (NSA) Smokejumper Magazine contains the following articles: Smokejumper History Special Issue: Earl Cooley Honored, Early Smokejumper History (Historic-Earl Cooley), First Actual Fire Jump (Historic reprint Rufus Robinson), Second Actual Fire Jump (Historic reprint Earl Cooley), Rufus Robinson—Pioneer Smokejumper (Historic), 1939 Experimental Project—Francis Lufkin (C. Sheley), Reprint of Jim Buden interview with Jim "Smokey" Alexander, Fire Jump Leaders (statistic), First Rescue Jump Recounted, Death of Chet Derry, Pioneer Smokejumper Glenn Smith. Smokejumper Magazine continues Static Line, which was the original title of the NSA quarterly magazine.
Date Information
April 2010
Publisher
National Smokejumper Association
Keywords
Smokejumping, Smokejumpers -- United States, National Smokejumper Association, Wildfire fighters
Recommended Citation
National Smokejumper Association; Cooley, Earl; Sheley, Chuck; and Robinson, Rufus, "Smokejumper Magazine, April 2010" (2010). Smokejumper and Static Line Magazines. 72.
https://dc.ewu.edu/smokejumper_mag/72
Rights Field
The National Smokejumper Association holds the rights to this publication. Permission to post by Eastern Washington University is granted by a non-exclusive licence.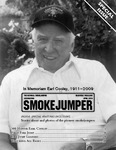 COinS