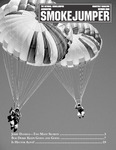 Description
This issue of the National Smokejumper Association (NSA) Smokejumper Magazine contains the following articles: Jerry Daniels—Too Many Secrets (Historic), (Bob) Derry Keeps Going and Going, Boise Reunion Committee Honors Jumpers and Pilots, Doctor Made House Calls by Parachute (Historic), Historic document CPS 1946, Tribute to Smokey Stover. Profile Walt Pilkey. Smokejumper Magazine continues Static Line, which was the original title of the NSA quarterly magazine.
Date Information
October 2008
Publisher
National Smokejumper Association
Keywords
Smokejumping, Smokejumpers -- United States, National Smokejumper Association, Wildfire fighters
Recommended Citation
National Smokejumper Association, "Smokejumper Magazine, October 2008" (2008). Smokejumper and Static Line Magazines. 66.
https://dc.ewu.edu/smokejumper_mag/66
Rights Field
The National Smokejumper Association holds the rights to this publication. Permission to post by Eastern Washington University is granted by a non-exclusive licence.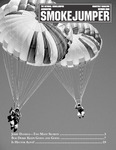 COinS