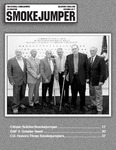 Description
This issue of the National Smokejumper Association (NSA) Smokejumper Magazine contains the following articles: Letter From Bear Bryant to Charley Moseley, Bruce Egger—Citizen Soldier, Good Sam Fund and the Chung Family, CIA Honors Three Former Smokejumpers, They Came Home in Caskets (Wash. Post), Tribute to Dave Laws.
Smokejumper Magazine continues Static Line, which was the original title of the NSA quarterly magazine.
Identifier
097_Smokejumper_Issue_98_October_2017
Date Information
October 2017
Publisher
National Smokejumper Association
Keywords
Smokejumping -- United States, Smokejumpers -- United States, National Smokejumper Association, Egger (Bruce), Good Samaritan Fund, Central Intelligence Agency, Air America
Recommended Citation
National Smokejumper Association, "Smokejumper Magazine, October 2017" (2017). Smokejumper and Static Line Magazines. 62.
https://dc.ewu.edu/smokejumper_mag/62
Rights Field
The National Smokejumper Association holds the rights to this publication. Permission to post by Eastern Washington University is granted by a non-exclusive licence.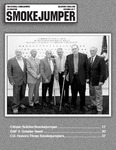 COinS