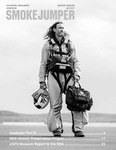 Description
This issue of the National Smokejumper Association (NSA) Smokejumper Magazine contains the the following articles: Karl Seethaler Part III (Historic), History Preservation Project, Thad Duel Feature, Tribute to Dick Courson and Mike Walker.
Smokejumper Magazine continues Static Line, which was the original title of the NSA quarterly magazine.
Identifier
096_Smokejumper_Issue_97_July_2017
Date Information
July 2017
Publisher
National Smokejumper Association
Keywords
Smokejumping -- United States, Smokejumpers -- United States, National Smokejumpers Association, Seethaler (Karl), Duel (Thad), Courson (Dick), Walker (Mike)
Recommended Citation
National Smokejumper Association, "Smokejumper Magazine, July 2017" (2017). Smokejumper and Static Line Magazines. 61.
https://dc.ewu.edu/smokejumper_mag/61
Rights Field
The National Smokejumper Association holds the rights to this publication. Permission to post by Eastern Washington University is granted by a non-exclusive licence.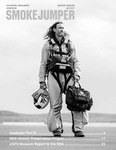 COinS