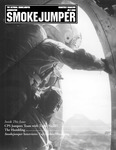 Description
This issue of the National Smokejumper Association (NSA) Smokejumper Magazine contains the following articles: CPS/Triple Nickles Team (Pic Littell), The Humbling (Reid Jackson), George Cross feature, Death of Daniel Pearl (Ted Burgon), Chris Demarest interview, Brief history of women fighting wildfire (Lori Messenger), profiles Richard Kreitzberg, Fred Rohrbach, Chuck Blanton, Bob Derry and Bob Gorsuch. Smokejumper Magazine continues Static Line, which was the original title of the NSA quarterly magazine.
Identifier
036_Smokejumper_Issue_36_July_2002
Date Information
July 2002
Publisher
National Smokejumper Association
Keywords
Smokejumping -- United States, Smokejumpers -- United States, National Smokejumper Association
Recommended Citation
National Smokejumper Association; Littell, Pic; Jackson, Reid; and Burgon, Ted, "Smokejumper Magazine, July 2002" (2002). Smokejumper and Static Line Magazines. 36.
https://dc.ewu.edu/smokejumper_mag/36
Rights Field
The National Smokejumper Association holds the rights to this publication. Permission to post by Eastern Washington University is granted by a non-exclusive licence.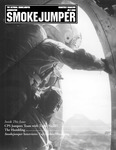 COinS