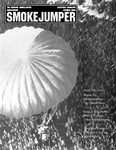 Description
This issue of the National Smokejumper Association (NSA) Smokejumper Magazine contains the following articles: Bob Caldwell (added profile), Failure of Controlled Burning New Mexico, Early Water Bombing (Wally Henderson), Region 8 Smokejumping (Delos Dutton), The Video Project (Steve Smith). Smokejumper Magazine continues Static Line, which was the original title of the NSA quarterly magazine.
Identifier
029_Smokejumper_Issue_29_October_2000
Date Information
October 2000
Publisher
National Smokejumper Association
Keywords
Smokejumping -- United States, Smokejumpers -- United States, National Smokejumper Association
Recommended Citation
National Smokejumper Association; Henderson, Wally; Dutton, Delos; and Smith, Steve, "Smokejumper Magazine, October 2000" (2000). Smokejumper and Static Line Magazines. 29.
https://dc.ewu.edu/smokejumper_mag/29
Rights Field
The National Smokejumper Association holds the rights to this publication. Permission to post by Eastern Washington University is granted by a non-exclusive licence.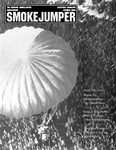 COinS