Preview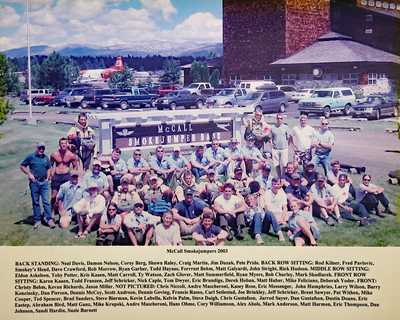 Source
The digital images were donated to Eastern Washington University Libraries by the National Smokejumper Association.
Date Information
2003-00-01
Description
A group portrait of the crew for the McCall Smokejumper base.
Front Row: Christy Behm, Kevans Richards, Jason Miller.
2nd Row (Sitting): Karen Kaaen, Todd Franzen, Jeff Schricker, Nick Caple, Tom Dwyer, Eric Brundige, Derek Hoban, Matt Huber, Mike Feliciano, Deborah Yoder.
3rd Row (Sitting): Eldon Askelson, Toby Potter, Kris Kaaen, Matt Carroll, Ty Watson, Zach Glover, Matt Summerfield, Ryan Myers, Bob Charley, Mark Skudlarek.
4th Row (Sitting): Rod Kilner, Fred Pavlovic, Smokey's Head, Dave Crawford, Rob Morrow, Ryan Garber, Todd Haynes, Forrest Behm, Matt Galyardt, John Stright, Rick Hudson.
Back Row (Standing): Neal Davis, Damon Nelson, Corey Berg, Shawn Raley, Craig Martin, Jim Duzak, Pete Pride.
Missing (Not Pictured): Chris Niccoli, Andre Mascheroni, Kasey Rose, Eric Messenger, John Humphries, Larry Wilson, Barry Koncinsky, Dan Pierson, Dennis McCoy, Scott Anderson, Dennis Geving, Francis Russo, Carl Seielestad, Joe Brinkley, Jeff Schricker, Brent Sawyer, Pat Withen, Mike Cooper, Ted Spencer, Brad Sanders, Steve Bierman, Kevin LaBella, Kelvin Palm, Steve Daigh, Chris Gustafson, Jarrod Sayer, Dan Gustafson, Dustin Soane, Eric Eastep, Abraham Bird, Matt Ganz, Mike Krupski, Andre Mascheroni, Hans Ohme, Cory Williamson, Alex Abols, Mark Anderson, Matt Harmon, Eric Thompson, Dan Johnson, Sandi Hardin, Suzie Barnett.
Repository
Archives and Special Collections, Eastern Washington University Libraries.
Rights
Users are responsible for assessing and/or securing use permissions. For further information, contact Eastern Washington University Libraries, Archives & Special Collections at (509) 359-2475.
Use Permissions
Eastern Washington University has not been able to identify the copyright holder and considers this an orphan work. If you have information about the rights holder, please contact Eastern Washington University Libraries, Archives & Special Collections at (509) 359-2475.
Keywords
Smokejumping -- United States, Smokejumpers -- United States -- McCall Ranger District (Idaho)
COinS