Off-campus Eastern Washington University users: To download EWU Only files, please use the following link to log into our proxy server with your EWU NetID and password.
Non-EWU users: Please talk to your local librarian about requesting this file through Interlibrary loan.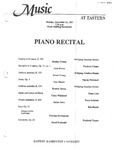 Performance Title
Abstract
Missing audio file
Note: Audio files available only for "Bacarolle, Op. 60", performed by David Rostkoski. Refer to the "Program" for titles of other works and for names of other performers.
MLC 360
Performance Date
11-24-1997
Performance Type
Other Performance
Recommended Citation
Rostkoski, David, "Piano Recital" (1997). Music Performances - General Collection. Performance 457.
https://dc.ewu.edu/music_performances/457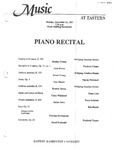 COinS